Hospice Grants
Hospices across England & Wales receive £600,000
Adult and children's hospices are receiving £600,000 in total from the Grand Charity. Freemasons have a long tradition of funding hospices, with the Grand Charity donating £9.3 million since 1984. All donations are raised by Freemasons and their families and aim to assist hospices in their vital role in helping those affected by terminal or life limiting illness.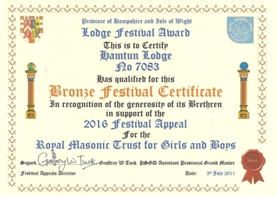 At our Installation meeting in September 2011, our new Visiting Officer was pleased to present our Charity Steward with a certificate to mark the lodge's achivement of gaining the bronze award for the
2016 festival
. This is a magnificent achievement in just 1 year.
Sixteen major grants have been announced by The Freemasons' Grand Charity, awarded to worthwhile projects and causes in the areas of medical research, youth opportunities and support for vulnerable people.
MEDICAL RESEARCH:
Juvenile Diabetes Research Foundation: £50,000
To fund a research project at the University of Manchester, developing Corneal confocal Microscopy for Human Diabeti c Neuropathy led by Professor Rayaz Malik. Peripheral diabeti c neuropathy is a common complicati on of type 1 diabetes.
Wellbeing of Women: £36,000
To fund a research project at Leeds University, led by Dr Nichlas Orsi, investi gati ng the role of a network of molecules known as eicosanoids in womb cancer. The incidence of womb cancer has doubled in the past ten years and 7,500 women are diagnosed in the UK each year.
Read more: New Major Grants announced - £470,000 in total expenditure